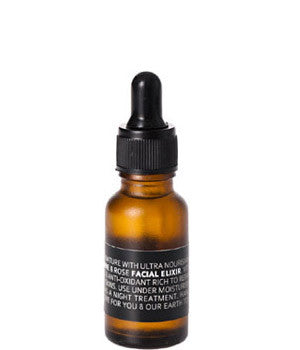 Facial Elixir ▪ Jasmine & Rose 20ml
Who is this for: This is intensive care for the skin. It is not necessary to apply everyday but rather once to twice a week. It can be applied under or over your daily moisturiser, as a night treatment or under a clay masque. It will boost the skin and a difference will be quite noticeable.
Intensive care and nourishment for the wise or "dull" looking skin

Defy Mother Nature with ultra nourishing SASSUI Jasmine & Rose Facial Elixir. Vitamin, mineral & anti-oxidant rich to repair and revive wise skin.
---
| | | | |
| --- | --- | --- | --- |
| | Free from: Parabans, SLS, Preservatives, Artificial colours and fragrances | | All Natural Ingredients / Non-GMO |
| | Suitable for Vegetarians & Vegans | | Cruelty free / Not tested on Animals |
| | Handmade with love | | Environmentally friendly, Bio-degradable, Recyclable container |
---
Key Ingredients: The key oil ingredients are Argan, Wheatgerm , Avocado oil, Macadamia Nut, Rosehip, Evening Primrose & Borage. 
Argan, Wheatgerm & Avocado Oil are exceptionally rich in their Vitamin E content. Vitamin E is an antioxidant that protects and repairs your skin.
Antioxidants are agents that neutralize the oxidant effect of free radicals, which are molecules that damage collagen and cause skin dryness, fine lines and wrinkles.
Rosehip oil is rich in Vitamin C. Vitamin C is key to the production of collagen, a protein that aids in the growth of cells and blood vessels and gives skin its firmness and strength and it helps your skin repair itself.
Baobab oil is rich in3 & 6 fatty acids, Evening Primrose & Borage Oil are rich in omega 6, all essential for skin health.
As we age, the cells of the skin membrane become thinner and less "sticky". This decreases the barrier function of the epidermis allowing moisture to be released from the skin, causing dryness and fine lines. Omega-3 fatty acids bolster the skin cell membrane of the epidermis. The skin cell membrane monitors the intake and disposal of nutrients and waste products entering and leaving the skin cell. The skin cell membrane also influences the ability of the cell to hold onto water. Therefore, if the skin cell holds onto water, it leads to moister, softer skin, which promotes wrinkle prevention and may eradicate existing mild wrinkles. Omega-3 fatty acids contribute to the upkeep of the skin cell membrane, improving the texture and quality of skin.
The sun's ultraviolet light increases the aging process of the skin. Research has demonstrated that omega-3 fatty acids can play a role in decreasing skin damage from UV light and the production of cancer cells caused by the UV light. It has also been shown to contribute to wound healing because of anti-inflammatory properties. It has been used to treat atopic dermatitis, psoriasis and acne.
Macadamia Nut oil is exceptionally high in Selenium & Zinc. Selenium builds the body's most powerful anti-oxidants enzyme called selenium superoxide dismutase. Zinc promotes cell & tissue repair.
 
Essential Oils: Carrot Seed Oil, Lavender, Neroli, Jasmine, Rose Otto, Rosewood, Sandalwood
Jasmine tones & improves elasticity

Sandalwood relieving dehydrated skin

Rosewood has a cell stimulant and tissue regenerating action on the skin which promotes rejuvenation of the skin.

Rose Otto stimulates the skin, while moisturizing and hydrating, boosting all skin types and being particularly beneficial to dry, mature and sensitive skin. It helps to reduce skin redness, fight inflammations, as well as fix broken capillaries on the skin and also acts as a general skin tonic with its astringent properties.

Carrot Seed oil contains Vitamin A, a vitamin that helps the skin rebuild tissues and regulate cellular growth, hence repairing damages to the skin. It is known to be also a great anti-aging nutrient.
 
Contents: Apricot, Argan, Avocado, Baobab, Borage, Evening Primrose, Jojoba, Macadamia Nut, Rosehip & Wheatgerm
 
Contraindications: Caution should be taken during pregnancy
 
Directions: Apply to face either in the mornings or evenings. If applied in the mornings it might be applied before the daily moisturiser or after or instead of (but not on a daily base), whichever appears more beneficial. In the evenings no further moisturiser is needed. Massage in gently with little pressure.
As each batch of natural ingredients can vary slightly so can the colour and scent of the end product.
---
---
Share this Product
---
More from this collection