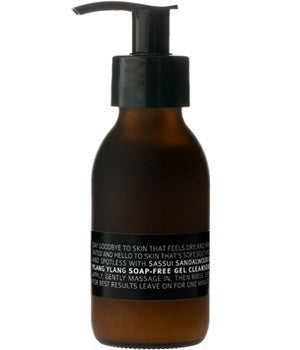 Cleansing Gel ▪ Ylang Ylang & Sandalwood 100ml
Who is this for: Sensitive, acne prone skins.  Also suitable for combination, stressed, irritated or inflamed skins. Excellent results have been achieved with teenagers.
Say goodbye to skin that feels dry and irritated and hello to skin that's soft, soothed and spotless with SASSUI SANDALWOOD & YLANG YLANG SOAP-FREE GEL CLEANSER. This is a very gentle, kind cleanser that will help soothe & heal acne prone or irritated and stressed skin. It does such a fantastic job that acne break-outs might even become a thing of the past.
---
| | | | |
| --- | --- | --- | --- |
| | Free from: Parabans, SLS, Preservatives, Artificial colours and fragrances | | All Natural Ingredients / Non-GMO |
| | Suitable for Vegetarians & Vegans | | Cruelty free / Not tested on Animals |
| | Handmade with love | | Environmentally friendly, Bio-degradable, Recyclable container |
---
Directions: Use it on wet skin, massage in gently and for even better results wait a few moments before rinsing it off. It is also possible to mix it with bentonite clay to give your skin a gentle exfoliation but only if your skin is not acne-prone.
Contains: Aqua, Witch-hazel, Cape Aloe extract, turmeric, guar gum, Sandalwood & Ylang Ylang essential oils.
Key Ingredients: Ylang-Ylang has a soothing effect and its balancing action sorts out over-dry as well as overly-oily skin by correcting the secretion of sebum. Sandalwood relieves itching and inflammation of the skin, and is most effective in relieving dehydrated skin - making it great for anti-ageing skincare - and the astringent action has a great toning effect and is also used with great results in oily skin conditions and to prevent the skin from forming ugly scars and for fighting dry eczema as well as acne. Aloe Ferox helps with soothing & healing, Tumeric with cleansing & moisturising.
Contraindications: None
As each batch of natural ingredients can vary slightly so can the colour and scent of the end product.
---
---
Share this Product
---
More from this collection