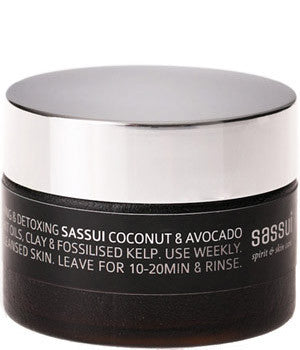 Masque ▪ Avocado & Coconut 50ml
Cleansing, detoxing & feeding
Who is this for: This is intensive care for the dull looking "hungry" skin. Use once or twice a week.
Feed your skin with a deeply cleansing, caring and de-toxing SASSUI Avocado & Coconut  Face Masque.
---
| | | | |
| --- | --- | --- | --- |
| | Free from: Parabans, SLS, Preservatives, Artificial colours and fragrances | | All Natural Ingredients / Non-GMO |
| | Suitable for Vegetarians | | Cruelty free / Not tested on Animals |
| | Handmade with love | | Environmentally friendly, Bio-degradable, Recyclable container |
---
Key Ingredients: Coconut Oil, Avocado Butter & Oil, Diatomaceous Earth, Tumeric & Green Clay
Coconut oil has anti-bacterial and antiseptic properties, is cleansing and provides the skin with fat-soluble minerals & vitamins hence repairing damaged tissue. Avocado Butter & oil is very rich in Vitamin E.

Diatomaceous Earth is made up of 89% silica. Silica is one of the most important trace elements in our body. When we are deficient in silica, our collagen breaks down more quickly, which makes the skin look old and dull. Silica can restore and repair the collagen in our body. Silica also helps with skin problems like eczema, rashes, acne, warts, burns and insect bites. Following a healthy silica regimen will leave you with healthy, glowing skin. Diatomaceous Earth is made up of tiny fossilized water plants that are ground into a fine white powder. These tiny particles are able to attract everything from bacteria, fungi, protozoa, viruses, endotoxins, pesticides and drug residues, E-Coli, and heavy metals. Collagen, which is extremely important for healthy skin, is mostly made up of silica.

Tumeric is moisturising & exfoliating. It is very effective in reducing skin inflammation, blemishes & pigmentation. Its antibacterial and anti-inflammatory properties help to reduce pimples and acne. Turmeric powder also has anti-aging properties that helps to heal and prevent dry skin and slows down the aging process to keep your skin younger looking.

Green clay acts like a micro-molecule sponge, removing impurities, dust, oil, dead skin, and contaminants with its ability to absorb. Pulling toxic substances from skin invigorates the complexion and tightens pores. It also feeds new cells by promoting blood flow, and leaves the skin feeling smooth and revitalized. 

Essential Oils: Juniper unblocks pores, Neroli has a regenerative effect, Ylang Ylang is sebum balancing and stimulating
 
Contents: Beeswax, Avocado Oil & Butter, Coconut & Wheatgerm Oil, Diatomaceous Earth, Tumeric and Green Clay

Essential Oils: Neroli, Juniper, Ylang Ylang

Contraindications: none

Directions: Apply to cleansed skin in slow circular movements. Leave on for 10 to 20 minutes. Rinse off using your usual cleanser and warm water. If skin is acne prone avoid over-stimulating movements.
As each batch of natural ingredients can vary slightly so can the colour and scent of the end product.
---
---
Share this Product
---
More from this collection